Art...
Mosaic has always held a special place in artistic expression. Since the first mosaics made of seashells and pebbles in Mesopotamia, 6000 years before our era, new techniques and new materials have come to refine this art.
During the classical period it was widely used by the Greeks and Romans. In the Middle Ages it was frequently used to embellish religious buildings.
After having disappeared for a few centuries at the end of the Renaissance, it regained its letters of nobility with Art Nouveau and Art Deco.
Today mosaic is used in many fields by architects and designers, in furniture, decoration, but also by artists. It is timeless.
A self-taught French artist, Goa was introduced to the art of mosaic by Mathilde L'Huillier, a visual and mosaic artist. The meeting with the mosaicist was decisive: it awakened his interest in this art which has become a passion.
Deeply inspired by the classical sculpture, Goa enlightens elements of statues or architecture. To him, creating mosaic is like making a puzzle with porcelain stoneware pieces that he cuts and re-cuts until the pieces fit together perfectly, gradually revealing a shape, a face, a body...
Goa has found with mosaic the artisitc expression that best corresponds to his creative aspiration. His work is inspired by his travels, his visits to museums and gardens.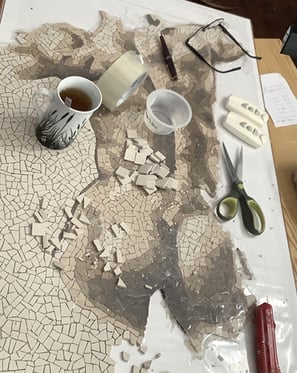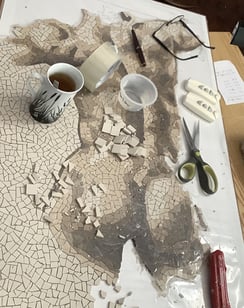 ... And ceramics
Porcelain stoneware is Goa's personal favorite. It is an industrial creation composed essentially of clay and silica pressed and heated to a very high temperature, over 1200°C. This chameleon material, very hard and very resistant, can perfectly imitate many textures such as wood, leather, metal, textile … and of course stone.
Porcelain stoneware has become evident to him to translate into his artwork the beauty of a marble statue, the vigor of a stone torso or the sturdiness of a temple.
Goa's color palette consists of a limited number of mineral hues that complements each other; working on their assemblage allows the artist to recreate shapes and volumes and to play with contrasts, shadows and light.